Sunday, April 22, 2007
Thursday, April 12, 2007
God Bless You, Mr. Vonnegut
Yesterday, one of the greatest literary minds of our time died. I don't know what I can say that would possibly give appropriate tribute to Kurt Vonnegut. That is why this post is largely fragmented thoughts in no particular order (I think Vonnegut would have liked it that way). I am glad that he was able to enjoy some of the recognition he deserved in his lifetime, an experience many of the greatest authors do not get to have. Perhaps it is wishful thinking, but I think that we grasp only a fraction of the power and influence Vonnegut will have that will trickle down through the generations. As part of a literary movement that redeemed the 20th century, Vonnegut's voice was truly unique. Even though we will miss him, he's probably in heaven right now, finally getting the answers he needed his whole life to the savagery of war and life on this planet that gave him what he needed to become a genius. And once he gets those answers, I'm sure he'll give God a hard time about the platypus. It is amazing that he lived as long as he did, given his insane amount of smoking. For this reason, I believe God sustained him to continue writing. 84 years are a lot for a man with his habits and suicidal depression. In his honor, I have made an exception to my rule of the blog image being unrelated to the content. Please share your favorite work of his and why.
Mine is Player Piano. Chuck Palahniuk has said that no author's first work is worth reading (a rule he is also the exception to). Vonnegut slides past such a maxim with ease and grace. Player Piano sets the foundation of themes that Vonnegut returned to his whole life. Yet he was never sedentary or redundant. He did break his own rule of writing (no suspense), but he can hardly be blamed with the resultant Player Piano.
I seriously will miss you, Kurt. But you live on in our hearts, and your works make you an immortal voice in our world. Thank you, and God Bless You, Mr. Vonnegut.
Sunday, April 08, 2007
Hey Cheetah Girl!: The Second Annual Midwest Mindset Bracket Throwdown (only not with brackets, or having to do with basketball)
Does anyone want to play fake baseball again this year? Even though we're a few days into the season, apparently CBS Sportsline lets you draft a new league all the way through June. I set up a head-to-head league with an automated draft that takes place on this Friday (the 13th!), aka "the Friday after Good Friday, which wasn't all that great, but not so bad either". I'm not sure why the Church dropped it from its calendar.
Anyways, it you like baseball, and like fake/fantasy competitions, and (
Editor's Note: Important Information Ahead!
) would be willing to check in on your team once a week so as not to pull a Brian Manley and never bench injured players
OR
respond to trade offers, follow the link below and enter the password
mindset
.
http://freemeeting.0.baseball.sportsline.com/splash/invite/3332/58025/b89588f80e22a0018ea3992af05aca6f
Once again, since this is a private league you'll be required to enter the following password before you can join the league.
League Password: mindset
We need 10 teams for the draft (or nothing happens and we all go home), so me being number one makes my league nine short as of right now. Like I said, the draft is automated, and takes place Friday, so if you join, set your draft order preferences by Thursday or just let the computer pick the "best" players out there. I think this year, I might shoot for a Milwaukee/Kansas City hybrid. Or hybird. Birds are great.
Freebird!
Best Easter Story Ever?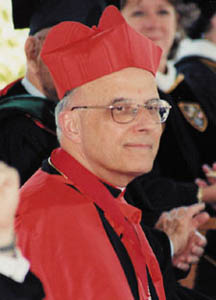 Cardinal George hospitalized after fall
Cardinal Francis George was hospitalized with a slight hip fracture Saturday after he apparently slipped and fell inside a Chicago church while blessing Easter baskets, archdiocese officials said.

George, 70, was at St. Ferdinand Catholic Church on the Northwest Side Saturday morning to bless baskets of food for Easter meals and slipped on some holy water that had splashed onto the marble floor, said Colleen Dolan, spokeswoman for the archdiocese.


Upon falling, the cardinal appeared to land squarely on his hips in a seated position and grimaced in pain. He did not lose consciousness and even continued with the blessing...
"He took a fall . . . in his exuberance with the holy water," Dolan said.