Illinois Take 2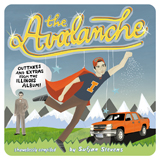 Great news!
It seems Sufjan Stevens loves my current home state enough to devote TWO whole albums to it. He refers to the beloved state album as "the album that keeps on giving"; indeed. Amidst Pitchfork's recovering from their blunder of reporting of a new baby coming down the pipe for Mr Stevens, they have (this time, correctly) announced that he will indeed birth a new album entitled "The Avalanche." Songs subjects include Pittsfield (a place I have eaten breakfast after an early morning hunting excursion with my old roommate Jacob), several remixes of Chicago, and many many more--21 tracks in all!!!
On a related note, my wife, Jake S., and I will be embarking this summer on what we are tentatively calling "lunch and Illinoise" mini roadtrips to see the sights referred to by the sounds. So expect some blogging from those adventures.
We can expect these sweet sounds July 21.